Have a professional carpet cleaning scheduled? If so, you may be wondering how to prepare for the visit. While it is not necessary to deep clean your carpet before the cleaner shows up, it can be advantageous to perform a few simple maintenance tasks to ensure the best clean possible. By preparing the space, the professional carpet cleaner can show up and start cleaning immediately without first having to prep the space. Learn how to prepare for a professional carpet cleaning for a satisfying outcome.
Clean Proactively by Dusting and Vacuuming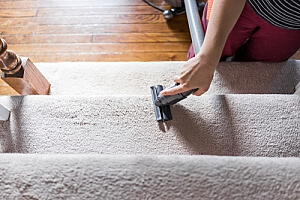 One of the easiest things you do for your carpets that can make a big impact is vacuuming. Start at one side of the room and slowly vacuum the space to avoid missing any spots. Vacuuming will help remove any excess dirt and debris that may be loose in the carpet fibers. This will allow the professional carpet cleaner to better reach the soiled-in dirt underneath.
Also, remove dust around the carpeted area to prevent it from falling back onto the carpet. This could include dust on side tables, shelves, decor or electronics. Take the time to wipe down baseboards where dust tends to collect. By dusting shortly before the professional carpet cleaner shows up, you can help prevent the carpet from becoming dirty too quickly following the cleaning.
Put Away Valuables in Case of an Accident
Professional carpet cleaning companies are trained to be highly cautious in customers' homes. This means being aware of their surroundings and careful not to cause damage to furniture or other possessions. However, carpet cleaners are people too and accidents can happen. For this reason, it is always a good idea to put away any expensive or valuable items in case an accident does occur.
When looking for items to put away, consider glass or fragile items on coffee tables, side stands or cabinets. If these pieces of furniture are bumped during the carpet cleaning process, they could fall and break. Fine china, collectibles, porcelain knick-knacks, and any heirloom items should be stored away from the area being cleaned. If you have valuables that cannot be removed, be sure to tell your carpet cleaner before getting started and he or she will use extra caution around that item.
Avoid Fees or Earn Discounts by Moving Furniture
To get a deep clean across your entire carpet, it is essential to move furniture out of the way. While some professional carpet cleaning companies will move furniture for you, there may be extra fees to your bill for this service. If possible, remove any furniture and other items off of your carpet before the carpet cleaner arrives. This could save you money on your bill and will make the carpet cleaning process go by faster.
If you do not want to go through the hassle of moving your own furniture, speak with your carpet cleaning company. Not all carpet cleaners will move furniture for you, even for a fee. If you fail to move it yourself, the cleaners may just go around the furniture. Also, ask about the possibility of earning discounts by moving the furniture yourself.
Reiterate the Trouble Areas on the Day of Service
Often, homeowners have certain areas of their carpet that are more spoiled than other areas. This includes areas of high traffic, such as hallways or other areas that are walked on frequently. These areas will usually need extra care to remove built-up dirt and debris that have accumulated from people's shoes.
You will also want to discuss any other areas of concern, such as areas where wine or other liquids were spilled. Depending on the color of your carpet, these types of stains can be difficult to get out on your own. If you have pets that have urinated or defecated in the home, you will also want to point out those trouble areas. Pet messes not only result in stains but can also cause lingering odors. Fortunately, a professional carpet cleaner will have the products and equipment needed to remove these tough stains and odors. Also, tell your professional carpet cleaner about any signs of mold or mildew in the carpet.
Get a Quote from Safe-Dry
By hiring a professional carpet cleaner to deep clean your carpets, you can sit back and relax while the professionals return your carpet to a clean, hygienic state. Remember to consider taking a few minutes to prepare the space for when the professional carpet cleaner arrives. By simply vacuuming, dusting, removing declutter and valuables and getting furniture out of the way, you can streamline the carpet cleaning process and ensure the best clean possible. For more information on how to prepare for a professional carpet cleaning or to schedule a cleaning, contact Safe-Dry.