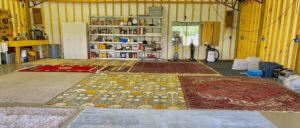 Oriental rugs require extra special care during cleaning to prevent damage from occurring. At Safe-Dry®, we offer a gentle and effective solution for cleaning oriental rugs. Our proven, organic, and chemical-free approach to cleaning is safe for all types of carpets. According to recommendations by the Carpet and Rug Institute (CRI), residential rugs should be cleaned every 12 to 18 months.
Professional Oriental Rug Cleaning
You can rely on our expert carpet cleaning technicians to provide safe and reliable cleaning treatments for all kinds of weaves, fabrics, and knotting. At Safe-Dry Carpet Cleaning, we understand that oriental rugs are an investment. That is why all of our technicians are expertly-trained and certified to handle fragile and delicate rugs.
We make the rug cleaning process easy by adapting to your unique needs. Our skilled cleaning team is equipped to clean oriental rugs on-site in your home or off-site in our state-of-the-art cleaning facility. For your convenience, we offer free pick-up and delivery at scheduled times for all off-site cleanings.
Safe & Damage Free Process
It can be challenging to find experienced professionals who have the skills needed to take on an oriental rug cleaning. It is also perfectly common to be concerned about preserving the condition of your rug. That's why at Safe-Dry®, we pretest all rugs to ensure that there is no color bleeding or other damage that could occur during the cleaning process. From handmade and machine-made to heirlooms handed down from generation to generation, you can trust us to handle your oriental rug with the utmost care.
Aside: Rugs that have suffered water damage, have pet urine, or need other specialized services are often recommended to be restored in our specialized rug cleaning facility. We offer free pick-up and delivery to make this process as easy and uncomplicated for you as possible. If you prefer your oriental rug be cleaned at home, of course, we can do that too!
Request A Quote Or Schedule An Appointment
Scheduling an appointment with our oriental rug cleaning team takes just a few moments. Request a free estimate online and a qualified technician will arrive at your home to assess the job. You will then receive an all-inclusive quote for our services, after which you can decide whether you would like the rug cleaned on-site or off-site.
Keep in mind that rugs function similarly to a filter, collecting dirt, dust, and allergens over time. While vacuuming can be useful for removing surface debris, some pollutants remain deep down in the fibers. To safeguard the longevity of your rug, it is best to have your oriental rug cleaned at least once a year or more. To learn more about our professional oriental rug cleaning services or to schedule an appointment with one of our expert rug cleaning technicians, contact your local Safe-Dry® location today.