Expert Carpet Cleaning Services in Lexington, SC
Dingy, dirty carpets make a room look old, sad and tired If your room's carpets are looking drab and dreadful, the solution doesn't have to be a costly complete carpet replacement Instead, consider choosing professional carpet cleaning services from Safe-Dry in Lexington, SC to get your carpets looking fresh and new again
With Safe-Dry, we offer a variety of carpet refreshing services that remove the daily dirt and grime that comes with a busy lifestyle We can customize your cleaning services depending on your home's needs and high traffic areas Whether it's spot treating set-in stains in your carpet, professionally cleaning heirloom area rugs, treating fabrics and upholstery on furniture or doing a complete professional carpet refresh throughout your entire home, you can count on Safe-Dry to help you get that perfect, showroom ready look in your space
How Safe-Dry Cleans Your Carpet
The carpet cleaning process at Safe-Dry is different from other professional cleaners Our team is dedicated to making your carpets look great indefinitely So when you get that gorgeous, freshly-treated clean carpet on the day of your service, you can expect your carpets to continue looking pristine well after we leave due to our proprietary cleaning process We also work around your schedule and have fine-tuned our process to be faster and more convenient than typical carpet cleaners Here is how we treat and refresh your home's carpets during our service:  
Customer-Centered Approach – We start our cleaning process by talking to you, the homeowner, and determine what your needs are We work with you to help you decide which carpets need professional cleaning and what your concerns are, such as pollutants, allergens, pet dander or indoor air quality

All-Natural Ingredients – At Safe-Dry, we are committed to using all-natural cleaners in our carpet treating solutions Our cleaning techniques incorporate soap-free ingredients that are hypoallergenic and safe for sensitive skin

Environmentally-Friendly Methodology – Our dedication to the environment is also important in our cleaning process The products we use are biodegradable and environmentally-friendly

Carbonated Carpet Treatment – Our cleaning agents also use a patented carbonated system to instantly lift stains and grime out of your carpets The bubbles in our cleaners effectively saturate your carpet's fibers and activate any dirt and residue deep inside

Fast Dry Time – We know your time is valuable, and spending all day away from your home waiting for your carpets to dry is never convenient Our dry cleaning process allows you to get back to your routine after our treatment The drying process takes less than an hour and keeps you from having to wait it out or avoid high-traffic rooms This means your carpets are fresh and ready almost instantly There's no need to set up fans all around the house waiting for a damp carpet to dry

No Left-Behind Residue or Odor – If you've ever gotten your carpets professionally treated, you may remember a slight residue or chemical smell lingering long after your technicians have left With Safe-Dry's all-natural cleaning process, there is no residue or unpleasant smell left behind All you get is a fresh, clean and gorgeous carpet that looks brand new again
Reduce Allergens in Your Home
One of the top concerns that our customers have is allergens in the home Indoor air quality is impacted by lingering allergens from various sources, and they often settle in your carpets These can be allergens that come in from the outside, such as pollutants, pesticides, mold and pollen Indoor allergens also may settle on your carpets Things like pet dander, dust and particles may also contribute to allergy and respiratory symptoms
You can combat these allergens with our carpet treatments that are designed to reduce the allergens lingering in your carpets Our cleaning services lift and remove dust, dander, pollen and pollutants and may help improve your home's indoor air quality It's much easier to enjoy your home when you can breathe a little easier with that peace of mind from Safe-Dry's help
Brighten Your Space
Our services don't end with your first cleaning treatment Safe-Dry can also help you maintain the beauty of your home with a fresh, spotless carpet We offer spot and stain removal services outside of the standard cleaning treatment Our experts can quickly treat and remove tricky stains from red wine, pets, mud, blood, ink and anything else that makes your carpet look less than perfect
Additionally, consider our services if you have a new home or get new carpets installed Our technicians can apply a protective safety shield for your brand new carpets This keeps them looking pristine and spotless for much longer
Contact Us Today for a Cleaner Home
For more information about how we can give you a fresh, new-looking carpet, contact us today It's easy to schedule your service for carpets in Lexington, SC with our online schedule form With Safe-Dry, get top service, quick dry time and a clean and pristine space that's safe for all of the residents in your home
Jay Doyle
Safe-Dry® Carpet Cleaning of Lexington, SC
Carpet Cleaning Services in Lexington, SC
All-Natural Carpet Cleaning
Just because it's safe and because it's dry, doesn't mean that it's of poor quality! Safe-Dry®'s carpet cleaning method is convenient, advanced and systemized. Using what is best for the environment, we have honed skills to perfect the art of carpet cleaning.
Our customers have rated us as the best carpet cleaner in and around Lexington, SC. What do you ask about when you call a carpet cleaner? What do you expect when you call a carpet cleaner? If you're like most of us, you want straightforward scheduling, an accurate estimate process and effectively cleaned carpets. Safe-Dry® cleaning guarantees your satisfaction, or it's free! We are confident in the work that we provide to our customers.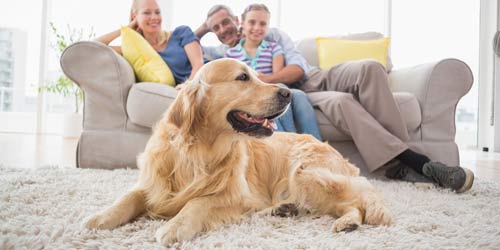 Professional Oriental and Area Rug Cleaning
We offer expert cleaning of all types of rugs. In order to lengthen the lifetime and maintain the beauty of your Oriental or area rugs, it is recommended to have a regular cleaning. We are local rug cleaners in the Lexington area, and we offer free pick-up and delivery of your rugs. We also offer at home cleaning for your convenience.
Your rugs can trap just as much dirt, dust, and allergens as carpets and upholstery. Regular cleaning removes this debris, providing you and your family a healthier and safer home environment. Commercial cleaning of carpets, upholstery, and area rugs are also available.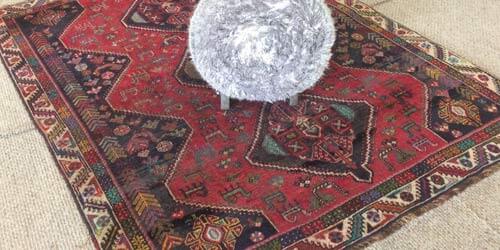 Upholstery Cleaning
Compared to light-colored fabrics, It is more difficult to spot dirt and allergens on darker fabric and determine when it needs cleaning.
Most upholstery manufacturers suggest having your sofas, loveseats or chairs cleaned at least every 12-18 months. If you have younger kids, pets or someone in your home that has allergies, it is best to have your carpets cleaned more often. Our safe and drier method of cleaning is the best for people with allergies and chemical sensitivities. In order to ensure that your furniture stays cleaner for a longer period of time, we eliminate soap and detergent so there is no sticky residue that can re-attract dirt to your furniture.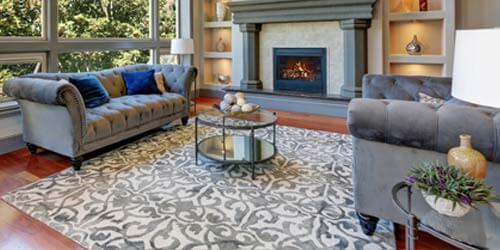 Allergies or Asthma Treatment for Carpet, Rugs, and Upholstery
Similar to our other products, our allergen treatment is hypoallergenic. Many people have allergic reactions due to the exposure of dust mites and pet allergens. Continued exposure can lead to the development of worsened symptoms and even other health issues. Our treatment is especially beneficial when you have these health issues.
According to doctors, a crucial way to reduce symptoms, control and even prevent allergies and asthma is to avoid or minimize exposure to these indoor allergens. Our allergen treatment can radically reduce symptoms and provide immediate relief that lasts up to six months. Our treatment works by changing the shape of allergen proteins, making them unrecognizable to the body. When this shape loses its form, there is no repetitive pattern that identifies the material as an allergen, and therefore, there is no allergic reaction!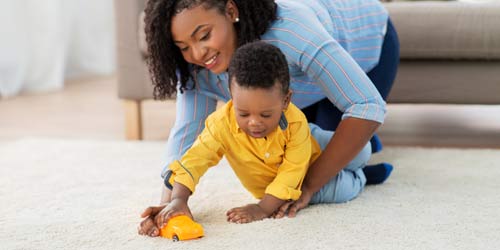 Pet Urine Odor Removal
If you have indoor pets, you have probably dealt with pet urine odors. Whether you're house training your pet, or have an elderly pet, accidents may be common. There are many reasons you may end up with pet urine in your carpet. Ultimately, once you have pet odors, they can be persistent and remove.
Safe-Dry® guarantees the removal of all pet urine odors in your carpets or rugs. Our revolutionary pet odor removal works to break down the odor-causing agents and destroys them. As a result, not only will your pet odor be gone, but it also will not return.
With our 100% satisfaction guarantee on our pet odor removal, you have nothing to lose!